Vous êtes ici : CDR - CERSM / Version française / Séminaires et colloques des équipes
Séminaire/Journée d'études

,
Séminaire CERSM - EA 2931 - Mercredi 6 décembre 2017
Publié le 15 novembre 2017
–
Mis à jour le 5 décembre 2017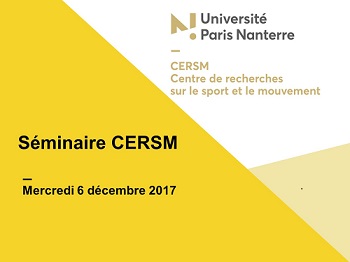 Monsieur Jared Bruce, professeur de psychologie à l'université de Missouri-Kansas et Madame Malek Abidi, doctorante au laboratoire CeRSM seront les deux intervenants de cette journée.
Date(s)
le 6 décembre 2017
14h-17h
Lieu(x)
Bâtiment S (Alice Milliat)
Amphi S2 - (rez-de-chaussée)
Programme de l'après-midi :
14h : A new approach to treatment non-adherence in chronic disease
Intervenant
: Jared BRUCE, professor of Psychology at the University of Missouri-Kansas City with a joint appointment in the Department of Biomedical and Health Informatics. Jared Bruce has published more than 80 scientific papers in multiple sclerosis, sports concussion, health behavior, obesity, and neuropsychiatric disorders. He is a fellow of the National Academy of Neuropsychology and the director of the University of Missouri-Kansas City Clinical Neuropsychology Research Laboratory.
Résumé
: Between 30 and 50% of patients with chronic disease do not take their medications as prescribed, leading to worse health outcomes and poorer quality of life for millions of patients. This presentation will review factors that contribute to poor adherence and summarize the results of a recent clinical trial designed to improve adherence in multiple sclerosis (MS). Finally, a new approach to understanding how patients make treatment decisions will be presented that incorporates methods from psychology, behavioral economics, and cognitive neuroscience.
15h30 : Neural mechanisms associated with treatment decision making
Intervenant
: Malek ABIDI, Doctorante au laboratoire CeRSM.
Résumé
: Great progress has been made in understanding how people make financial decisions. However, there is little research on how people make health and treatment choices. As many as 50% of patients with chronic disease decline or prematurely discontinue prescribed treatment regimens even with highly efficacious medications. Health researchers frequently use bio-psycho-social theoretical models to better understand human behavior and very little is known about the neural mechanisms of treatment choice and adherence. Using a probability discounting task in fMRI, this study aimed to identify how people weigh the probability of benefits and risks when deciding whether to take a hypothetical medication, and to examine the neural and affective mechanisms implicated in the treatment decisions.
Mis à jour le 05 décembre 2017